Jargon's trainings on regulatory requirements focus on transferring knowledge and on creating insight and understanding.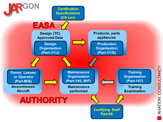 Each Jargon training on rules and regulations starts with an overview of the regulatory system. The roles and responsibilities of ICAO, EASA, the former JAA and the individual EASA and non-EASA member states are explained. The relationships between different rules and regulations are also covered. This enhances understanding of the rules and the responsibilities of all organisations involved (design, production, continuing airworthiness management, maintenance etcetera).
The rules and their supporting materials like Acceptable Means of Compliance (AMC) and Guidance Materials (GM) are discussed and explained in detail. Where applicable, the training content covers the syllabi published by EASA. Recent developments and proposed amendments are also discussed. During the trainings many examples are given of the implementation of the regulation in organisations. There is ample time for questions and discussion.
For in-house trainings, examples focus on the particular organisation and the procedures in place. Special high level trainings are available for individual managers or groups of managers.
An examination after the training may be included as desired. Jargon Aviation Consultancy is authorised by EASA to provide and supervise EASA e-examinations. Alternatively a Jargon examination may be taken.
Trainings on European aviation requirements (EASA Parts)
Jargon Aviation Consultancy provides the following trainings on EU / EASA rules:
Initial airworthiness (EASA Part-21, DOA, POA)
Continuing airworthiness (EASA Part-M, Part-145, or Part-66&147)
Most of these trainings are available in different variants, like Part-21/J or Part-M/G. Also these trainings are available as initial training and as continuation training. The continuation training refreshes essential or complicated elements of the rule and covers recent amendments and proposed changes.
Trainings on American aviation requirements (FAA FAR's)
Similar to these EU / EASA based trainings Jargon also provides training on the corresponding parts of the American regulations of Title 14 CFR (FARs) like Part 21 (FAR 21), Part 43 (FAR 43) and Part 145 (FAR 145). During these trainings the differences with the European requirements are highlighted.
Trainings on Bilateral Aviation Safety Agreements (BASA)
Jargon has developed a range of trainings on the Bilateral Aviation Safety Agreements between EU and USA and between EU and Canada. These BASA trainings differ in the level of detail and the audience targeted. The detailed trainings cover the full BASA's, the TIP's and the MAG's. Trainings are updated whenever revisions or changes are published.
Trainings on military aviation requirements (MLE, EMAR)
The Jargon training portfolio also includes trainings on the corresponding Dutch military aviation requirements (MLE's). During these trainings the differences with the civil European requirements are clearly pointed out.
Trainings on the European military aviation requirements issued by the European Defence Agency will be made available soon after publication of these EMAR's.
A complete overview of the currently available trainings is available here. This overview is updated regularly.